HOME
All Works Like Magick Novels: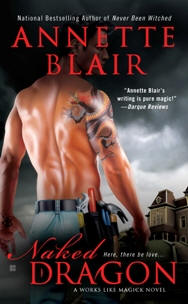 ISBN 978-0425232002
NAKED DRAGON
A Works Like Magick Novel
Book One
A Paranormal Romantic Comedy
Placed Hot Guyz Patrol Contest
Affaire de Coeur Magazine
The Works Like Magick Employment Agency has a reputation for perfectly matching clients with magickal temps. So when McKenna Greylock requests a handyman, the gorgeous Bastian Dragonelli arrives to repair her B&B...and fire up her bedroom.
Forget the vampires and demons, give me the dragons! Full of suspense, humor, and romance, this novel is sure to please any paranormal or fantasy fan. For anyone who read the author's novel "The Kitchen Witch," you will be treated to a cameo or two by Melody Seabright! ...one more way the author makes her stories special. Annette Blair is one in a billion!" ~Detra Fitch, Huntress Reviews
"This book was so much fun. I've been hooked on her books since I read "Kitchen Witch", and this was just as good. There were lots of laugh out loud moments, and seeing Bastian as he adjusts to his new shape and time was hilarious and moving at the same time. I am really looking forward to the next one." Susan F, eHarlequin
"Containing everything a fan of paranormal romance could wish for--dragons, goofy faeries, treasure, love, and most important, good conquering evil--Annette Blair has crafted an original and entertaining tale of love and redemption." Lanine Bradley, The Sacramento Book Review
"Blairís unusual paranormal features charming characters, rich relationships, an inviting community, and sensuous lovemaking, all rolled up in a rollicking good read. Readers will look forward to more fun with tales of Bastianís brothers in future installments in Blairís Works Like Magick series." Booklist
"Iíve been a fan of Annette Blairís since her first witch trilogy, and loved every one... Her humor is her mainstay, something you know will be in every story and will keep you entertained throughout...[she] gives you charming characters...all wrapped in magic. You cannot go wrong with an Annette Blair book. NAKED DRAGON is a terrific start for Ms. Blairís new series. Her writing is still invitingly fresh, especially the banter between characters no matter who they are. Her take on magic is just as fresh and very different from most of whatís out there nowadays. As her fans have learned, each coming book will be a delight, will stand on its own, but will remain true and consistent to the essence of the series. Isnít it time you learned that too? Grade: A+ " Sandy M., The Good, the Bad, and the Unread
"Naked Dragon begins a tale of dragons coming to Earth...Sparks and humorous quips became flames and heated encounters pretty fast while Bastian learned how to help McKenna. They both discovered who their friends and enemies were, which led to an ending that had me holding my breath. The final outcome was one that made me cheer for Bastian and McKenna. Naked Dragon has humor, danger, magic and a wondrous love woven through the threads of time...I canít wait for the next Works Like Magick novel." Jo, Joyfully Reviewed
"Naked Dragon was simply amazing. It kept me turning pages, laughing, ahh-ing, and at the end- crying. I fell completely in love with Bastian and I found myself wanting to take him out of the book and keep him all for myself! :) This is a fantastic book, one of her best! Out of five stars I would rate this book a 9! A MUST READ!" Writingirl_15, Barnes & Noble
ďIn this book, it is not so much the end as the journey, and this is one voyage youíll enjoy all the way throughÖa laugh-out-loud read. It is in her characters that Blairís talent shines. Their dialogue sparkles so much youíll need sunglasses.Ē Ann, formerly of Scribesworld
"The first Works Like Magick urban romantic fantasy is a fun lighthearted entertaining tale that is filled with magic mostly because of the heroís struggles to adapt to modern society. Amusing yet with a serious subplot, as no one escapes the wrath of Killian, fans will enjoy the naked Dragon who learns what a lance truly is and its true purpose from his beloved employer." Harriet Klausner
"

If you love paranormal romance, if you love good conquering evil, if you love dragons, goofy faeries, and the like you will love this book, and you should buy it. Annette Blair never fails to make me want more. BUY THE BOOK! When can I get the next one Ms. Blair? Tomorrow is not too soon." Doni, Romance in the Backseat
"Fantastically funny and supremely sensual! NAKED DRAGON will set your tail on fire! Bastian is a charming man dragon who is just a bit archaic, but a whole lot lovable! McKenna is a strong woman with a heart of gold. The entire cast of the book is fun to read! Bastian and his crazy man-lance have me begging for more Ö dragons from Annette Blair!" Thea McClain, The Romance Readers Connection
"Blair's first story in her new Works Like Magick series introduces wonderfully magical dragon men. The adjustments the hero must make to fit into this modern world are delightfully handled, and the main characters' interactions with each other and those around them make for a fun and enjoyable escape from reality. HOT." ~Susan Mobley, RT
"NAKED DRAGON A WORKS LIKE MAGICK NOVEL is a highly entertaining magickal read. Annette Blair once again proves why sheís on my auto buy list. Everything I have ever read by this author has a place on my keeper shelf. I canít wait to see where Annette Blair takes this series next. I have to admit, I cried at the end. A truly heartfelt sigh worthy ending. I highly recommend this book to all lovers of magick and true love." Chere Gruver, ParaNormalRomance
"Annette Blair must have had a lot of fun with this tale...Filled with fun, sex and romance...with some suspense thrown in...Blair gives readers a strong supporting cast as well with McKennaís best friend, Lizzie and her family; Dewcup, the fairy always getting into trouble and Jock, the petit guardian dragon. While she includes sex, Blair doesnít forget the romance in any way, and itís lovely to watch Bastian slowly but surely break down McKennaís barriers. Itís a funny, warm-hearted paranormal romance that will regale older fans and create new ones for Blair." K. Petersen, Romance Junkies
"Blair has written a truly delightful romance that seems to have many of the qualities of a fairy tale. The humor was wonderful and I have to confess to some hearty laughing while reading. There is hope and renewal as Bastian makes McKenna's quest his own. Yet it is a joy to witness McKenna's discovery about her own skills and strengths. When she encounters Bastian true dragon self, the exchange is beautiful and heartwarming. I think this is a delightful book and I hope all of you take the time to read it. It is not overly long but is well-written and display's the author's skill in telling a very good story." Judith, Book Binge
"This book was so much fun. I've been hooked on her books since I read "Kitchen Witch", and this was just as good. There were lots of laugh out loud moments, and seeing Bastian as he adjusts to his new shape and time was hilarious and moving at the same time. I am really looking forward to the next one." e-Harlequin book reviews, Susan F., Fredericksburg, VA
"Awesome! I thoroughly enjoyed NAKED DRAGON. The book caught me by surprise with its great humor that made it laugh-out-loud funny without going over the top. Itís also a lovely and touching romance that was fast-paced but never felt rushed. I donít know why I left this treasure of a book on the shelves for so long and I canít wait for Bastianís brothers to get their books as this one has really left me wanting more." Pearl, Pearl's World of Romance
Iíve always loved Annetteís books because of her charactersí personalities. What I loved about Naked Dragon was that McKennaís and Bastianís weaknesses; fears and love were revealed in natural form. That others watched out for them added even more appreciation for what they were going through. You can relate to their difficult challenges and feel for them every step of the way. I was satisfied with the outcome of this book and would love to learn more about The Island of Stars. 41/2 dragons out of 5, Denise Fleischer
---
ďBlair once again delivers an ingenious story with humor and intriguing characters in this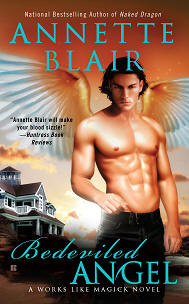 new Works Like Magick tale. The twin girls are a delight, the angel hero, dashing.Ē Romantic Times, 4 Ĺ Stars

August 2010
ISBN: 978-0425235973
Bedeviled Angel
A Works Like Magick Novel
Book Two
In a building collapse, Chance Godricson is meant to live and Queisha Saint-Denis to die. But he sent her up his escape tunnel before him, it collapsed behind her, and he became her guardian angel. Now Queisha's about to face the most difficult challenge of her life and Chance wants to be there for her. Enter Angus, a fellow angel, who knocks Chance back to earth, and to Queisha, without permission. Will the archangels let Chance stay? For how long? And at what cost?

"A very clever, entertaining and humorous addition to the uplifting Works Like Magick series." Paula Myers, Fresh Fiction
"Magic, fantasy, and angels combined with hot passion and humor made Bedeviled Angel a book I could not put down." Jo, Joyfully Reviewed
"BEDEVILED ANGEL, second in the WORKS LIKE MAGICK series, is a magically enchanting paranormal romance...hard to put down. Richly enhanced with well-drawn, charismatic characters, an enthralling and imaginative plot, humor, scorching hot love scenes and a perfect ending, this story is absolutely bewitching. Author Annette Blairís writing is so delightful; her books are on my Ďautobuyí list." 5 Blue Ribbons, Dottie Jones, Romance Junkies
"Annette Blair is a master at sweeping you from one emotion to the next with the flip of a page. Her humor mixed with life challenges always give you characters with dignity and laced with fun. You canít help but feel good when youíve finished one of her books." Grade: A+ Sandy M, The Good, the Bad, and the Unread
"...the angel theme is fantastic
...author Annette Blair has succeeded, once again, in creating larger-than-life events and characters, somehow making them believable, and then adding her own special magic to bring it all to life. Utterly charming."

Detra Fitch, 5 Stars, Huntress Reviews
"I adored this book. I loved Queisha and Chance and the little girls. This book is written with so much passion, such real characters, such humor and love. You just have to keep reading." Aurian, Germany
"The second Works Like Magick urban romantic fantasy is a terrific tale with plenty of humor especially as Chance struggles with unacceptable thoughts and the heavenly dictate of complete honesty. The twins enhance the story...while Angus is an impish messenger... With a strong lead couple and a taut look at an agoraphobic battling her neurosis to raise young children, Annette Blair provides a strong heaven sent thriller." 5 Stars, Harriet Klausner, Genre Go Round, The Best Reviews
"BEDEVILED ANGEL is the story of an angel who meets his match... Funny situations, a bit of magic, and a good romance, as Queisha and Chance work out their problems, make this a light and charming summer read." Marilyn Heyman, Romance Reviews Today
"Annette Blair successfully creates a convincing world where the paranormal exist among everyday humans. Chance is an immediately likeable love interest for the relationship-cautious Queisha.
The story is driven by the dynamics and interactions between the two and convincingly takes the reader on their personal journey. Blair reveals the depth of her characters, their experiences, and how the twins play into their lives. It is hard not to be carried away by the humor, emotion, love, sex, and mischief that surround Chance and Queisha." Romance Novel News
"BEDEVILED ANGEL took me on an emotional rollercoaster with its endearing characters and its heart-rending story. At the end I just cried and cried silent tears at how beautiful and emotional it was. It was the perfect ending to a fun and lovely paranormal romance. I am definitely looking forward to the next in the Works Like Magick series, which will focus on the dragons again." Pearl, Fiction Vixen
Bedeviled Angel: "Totally digginí the concept.
I love the idea that if you almost die, itís not a doctor that brings you back, but your guardian angel.
I love the idea that guardian angels have rainbow-colored wings and each layer stands for something (i.e. gold = love)
I love the idea that there are different types of guardian angels, depending on how they lived/died, and that each and every one of them has a special job in Heaven.
I love the idea that someoneís last words to you can become the motto you live by.
I love the idea that my guardian angel could be as gorgeous as Chance Godricson. Mr. Hottie on a Stick.
The world Annette created for these four people (Quiesha, Chance, and the twins, Lace and Skye) just pulled me in and made me want to stay.
A great book...really enjoying...looking forward to more in the series." Author Celise Downs
---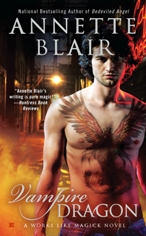 A Barnes & Noble "Books we Love"
"Must Read"
Love can't happen until the masks come off! ...Welcome to Drak's, A Place for Vampires,
where nobody is who--or what--they say they are, good and evil, alike. Meet Puck, the sarcastic Macaw; flying cats Lila and Scorch; and a twelve-year old boy with a century's worth of memories. In the final, deadly, confrontation: It's a shape shifting dragon and the Vampiress he loves...against a mob boss from hell and an evil sorceress out for blood.

"[Vampire Dragon] ... sucked me in and kept me reading to the last page. If you pick up this book you will not be disappointed. 5 Plus Stars Top Pick!" Sherylyn

"This is a great book! VAMPIRE DRAGON is a humorous, as well as a wonderful, world." Vicky Gilpin, Fresh Review
Vampire Dragon..."The third Works Like Magic urban romantic fantasy is a terrific often amusing thriller as Darkwyn struggles to adapt to an earth much different from the one he was exiled from & to persuade Bronte they belong together. Because the Blair mythos is extremely complicated, newcomers should start at the beginning with Naked Dragon and Bedeviled Angel. New readers will agree with fans that, even though the tone is similar to the Beauty taming of the Beast theme of its predecessors, that Darkwynís efforts to save his soul mate through love is a terrific tale." Harriet Klausner, Merry Genre Go Round; Worlds of Wonder & Alternative Worlds, etc.
ďBlair is great at creating funny, light characters, and her dragon menÖare lots of fun.... Blairís heroes are great behavior models.Ē Romantic Times
"

Numerous times I found myself laughing long and loud. Readers wanting a break...need look no further than here. Bring on the dragons!" Detra Fitch, Huntress Reviews
"Ms. Blair has a vivid imagination with her other-world characters & her magical earth. Strange creatures, romance, magic, and a few bad people thrown into the mix make VAMPIRE DRAGON a fascinating fantasy." Marilyn Heyman, Romance Rev Today