HOME

A NEW YORK TIMES BESTSELLING MYSTERY SERIES
TULLE DEATH DO US PART
6th Vintage Magic Mystery, July 2013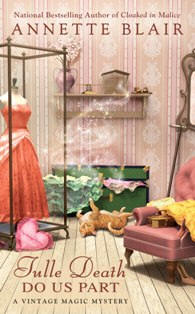 New York Times Bestselling author Annette Blair's "fast-paced, fascinating" (Fresh Fiction) Vintage Magic series continues as clothing boutique owner Madeira Cutler takes on a murder from the past that won't stay dead . . .
Maddie's love of classic fashion has made her Vintage Magic boutique a success--even if the visions she experiences when touching certain items often lead her into trouble. Decades ago, at a Mystic Country Club costume ball, a secret scavenger hunt ended in an unexplained death, hastily concealed.

Now, Maddie's invited to participate in a similar anniversary event: but one touch of the vintage petticoat used to hide evidence of the original crime hurtles Maddie into a scavenger hunt of her own. She must find missing petticoat pieces and re-stitch the clues it reveals...to expose a killer!
Review Quotes:
"Readers of the series will love this one and it will certainly draw in a new crowd as well. Blair does an amazing job with her characters and her mysteries are really fun to read. I love Maddie has a heroine and I hope this won't be the last in the series." Debbie's Book Bag
"Another outstanding read by Annette Blair. Maddie Cutler is a character that I will follow until this series ends. Her boutique, Vintage Magic, is a place that is so cozy it feels just like home." Chelsey's Chatter
"This is another solid outing for Madeira "Maddie" Cutler with a satisfying mystery and huge relationship development. I enjoyed seeing Maddie take on even more challenges and the development in both her personal life and that of other secondary characters. Tulle Death Do Us Part is a sweet paranormal cozy mystery." Backchatting Books
"I really enjoyed reading Tulle Death Do Us Part. I hope that this isn't the last in the series because I want more beautiful dresses, vintage bags, cozy mysteries, and further interaction between him and Madeira. I couldn't put Tulle Death Do Us Part down and I kept going back to it in between breaks from work." Goldie, My Book Musings
"While I have savored every book in the series, you do not need to read the others to enjoy this book. It's a fabulous summer read, and I believe it would appeal to teenage girls, college kids, and their moms. Anyone who fancies vintage fashions will be on cloud nine with all the descriptions and details given. Lest I forget- the cover art is beautiful too! In this case, you can judge a book by its cover- the words live up to the picture and then some!" MyShelf
"Absolute perfection! Blair has combined a compelling mystery, her trademark quirky writing voice and snappy dialogue, fun vintage clothing details, and totally satisfying romance. Oh! The romance! Not only did Maddie embark on a wonderful love story (finally, long overdue and she deserved it), but some other secondary characters also found their HEAs, too. One paranormal, one firmly on earth. And the fact that Maddie's deceased mother blessed all the happiness (with the sweet scent of chocolate) brought a tear to my eye. This book is WONDERFUL! Grade A+" Penelope's Romance Reviews
"Once again the author has penned another wonderful mystery. I look forward to rejoining those fictional friends in the next adventure. Annette Blair's storytelling continues to shine brighter than any star possibly could. Detra Fitch, Huntress Reviews
"How can you not love a book that opens with "Last night I bedazzled a hard hat"? The characters are going through a lot of personal growth in this book, from Maddie's Dad, Eve, Dolly and Werner the cop–all have great story lines. Dante and the visions are a little woo-woo but really, it's not intrusive or distracting. It just fits like a vintage dress." Kings River Life, A California Magazine, article title: "More Fashion Mysteries from Penguin"
---
A NEW YORK TIMES BESTSELLER!
CLOAKED IN MALICE
5th Vintage Magic Mystery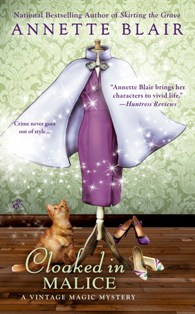 July 2012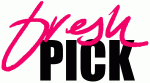 "The best book so far in a must read series." Ms. Blair does a masterful job of releasing clues to Paisley's history bit by bit. The story that unfolds is fascinating and unexpected. I couldn't figure out how the pieces all went together until all was revealed; the uncertainty kept me reading late in to the night. I loved every minute of it!"
---

4th Vintage Magic Mystery
July 5, 2011
SKIRTING THE GRAVE
Hours after Maddie's new intern--Isobel York--is identified & pronounced dead, a woman claiming to be Isobel appears on Mad's doorstep. This is not just a case of "whodunit" but "who-is-it?"
Fantabulous! "Blair...kept me guessing during the entire story. I kept feeling as if I were missing just one link, one clue, or one piece of the puzzle. Any time I thought I had all the pieces...and knew who was behind what and why, I was proven wrong. I became aggravated that my theory was wrong, yet thrilled at the same time because it meant the overall picture was even bigger than I originally believed. (Only another true mystery lover will understand what I am trying to explain.) The author's writing is bright, colorful, and vivid. I could easily envision Maddie and Isobel roller skating around the shop in their vintage carhop outfits. Over time I have learned one major lesson: Whenever I open a book by Annette Blair, the real world fades away and I am guaranteed to be highly entertained. Fantabulous!" Detra Fitch, Huntress Reviews
Excellent! "The main character, Madeira, is a vintage clothes seller and clothing designer. She is also psychometric, she gets visions sometimes when she touches clothing. She also has two men in her life, and is trying to choose between the two. I absolutely love the interplay between Mad and her two men. And also the relationship between Mad and her family. It's charming. I also loved the mystery in this one, there were so many twists and turns it was excellent." Speed Reader Book Reviews
"Love this Series!" Maria Munoz Goodreads

"Definitely in style for any fan of cozy mysteries. While helping to plan her sister's baby shower, vintage clothing boutique owner Madeira Cutler must also solve a murder when Isobel, her new design intern, dies under suspicious circumstances and an imposter arrives at her doorstep later in the evening claiming to be Isobel. Original. 30,000 first printing." Maria Munoz, Fresh Fiction
"I loved the story... Annette Blair has a very fluent and easy reading writing style I love. Her characters are just human (okay, sometimes with a bit of magic), and humorous. If you love vintage clothing yourself, you will love the numerous descriptions of dresses and purses and whatever else goes with that. But if you are not a fashionista, like my self, you will still enjoy this lovely cozy mystery series. A great heroine, lovely secondary characters, two hot guys who both want Maddie. No love scenes though, after all, it is a cozy." Aurian, boeklogboek
"A well drawn mystery...a healthy dose of humor and even some vintage fashion tips. There is plenty of romance with Maddie conflicted by her feelings for the two men in her life...a fun read...also fine as a stand-alone, suitable for all ages from tweeners on up. Annette Blair is a very skilled author, and the story, while complex, comes together nicely at the end. Good for the beach or a lazy day in a hammock. Laura Hinds, myshelf
The best book yet! "A conspiracy is afoot and the gang doesn't know why someone wants Isobel, Maddie's intern, dead. Being able to read clothes, gives Maddie inside information that she passes on to the detective and FBI agent handling the case. It will take the efforts of Maddie, Nick and Werner to unravel this mystery and save the life of a young woman who Maddie has taken a liking to. This was a fun and enjoyable read that will have you smiling with all that is Madeira Cutler. With truly lovable characters, great dialogue, and glimpse of vintage fashion apparel, this was the best book yet in this enchanting and fabulous series that gets better with time. dru's book musings, reviewed for Penguin
"I couldn't put down this book once I started. I literally had to pry my fingers and eyes away to go to bed. Each book in this series is better than the last. Annette Blair's books are always pure magic! I love the mix of wit, humor, mystery and magic (plus the steamy sexiness that sometimes gets thrown in) and her writing style flows so smoothly- all of her books that I've read have truly been a pleasure. And the Vintage Magic series- it has everything I love- humor, wit, style, vintage stuff, ghosts, mystery, and sexy men. Personally I'm rooting for Werner but knowing me I'm rooting for the underdog, I always do. In this 4th installment Maddie and Werner have actually been kinda dating, not that she'll admit to that but her and Nick are again in "off" mode. But of course Nick comes back to town just in time to get involved in another murder case Maddie finds herself in the middle of- again. And the murder victim? This time it's her would be assistant- or is it? The mystery will keep you on toes trying to figure this mix up out. And the visions Maddie gets from the trunk of vintage clothes just add into the mystery of who, what and why? Readers also will wonder throughout the book who will Maddie choose? Werner or Nick- by the end you'll think you know- but hey things might change again in a future book. I read this so fast I was almost disappointed to realize the book was over- but definitely not disappointed in the book. Blair never disappoints. Her books are fun and light hearted even though the subject matter can sometimes be dark- the writing is superb, colorful and bright making you want more with each page you turn. I can't wait for the next vintage magic mystery." Roxanne Rhoades
---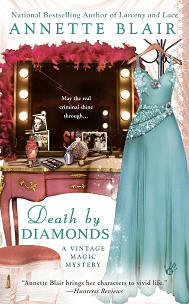 3rd Vintage Magic Mystery
July 2010
Death by Diamonds
Madeira Cutler receives a dawn delivery, a gown she designed in fashion school for a Broadway Star, now a dear friend. A cryptic note reads: "Mad, sweetie, if you have this, and not from my hand, I'm dead." Dominique DeLong died on stage in front of hundreds of people. How and at who's hand?
"I devoured this book so fast I think I broke a record. It was fabulous- the best Vintage Magic Mystery yet. Full of magic, mystery, and classic Blair style. Maddie's antics are always fun to read and the hint of romance is a teasing heat that leaves you wondering and wanting more. I can't wait for the next..." 5 Fangs, Fang-tastic Books
"Nick is still hot, but Lytton begins some competition with his thermonuclear kiss. To say that Annette Blair has revved up the drama and intensity would be putting it too mildly. The depicted members of a group, dubbed The Parasites, could not have been more perfect. One of the most interesting mysteries I have read this year. A magnificent story!" 5 Stars, Detra Fitch, Huntress Reviews
"Annette Blair has the magical touch when it comes to paranormal who-done-its with her entertaining, joie de vivre amateur sleuth. The mystery is cleverly constructed making it difficult to figure out the culprit...Readers will relish the latest Vintage Magic whodunit..." 5 Stars, Harriet Klausner, Genre Go Round, The Best Reviews
"A fast-paced, fascinating addition to this dynamic mystery series. A book by Annette Blair is a guaranteed roller coaster ride, and DEATH BY DIAMONDS in no exception!" Paula Myers, Fresh Fiction
"A delightful romp... Blair's characters are witty, sexy, and best of all, honest. Her dialogue sparkles like the diamonds Maddie is hunting for...the characters as three-dimensional as the Mark Jacobs handbag she carries." 4 ½ Stars, Ann, Scribes World
"I regret that I missed the first two in this series, but I soon caught on. Fascinating blend of humor mixed with murder and other serious business. This is kind of whacky and I adored it." Donna, Romance Reviews
"This fun entry in the Vintage Magic Mysteries includes interesting details...quirky supporting characters...a charming ghost and Madeira's ability to see past events when she touches the clothes...a fun read." 4 Stars, Romantic Times
"Annette Blair's mystery series showcases the best of her writing...such a lovely cadence to her prose, it's a delight to read. Her "voice" is fresh, her heroine adorable. Wonderful settings, gorgeous vintage clothes, quirky family, cool paranormal edge, a snappy mystery. I found myself crying at the end and realized that Blair's writing is an awesome juxtaposition of modern, snappy prose with sentimental, old-fashioned heart underneath. I love it!" Grade A, Penelope
"An exciting, humorous roller coaster ride. I absolutely adore Annette Blair's books. She has a way of weaving humor throughout. We have the paranormal...Dominique's death and missing diamonds...chemistry between Mad and Nick and maybe [Mad and Werner]...and mayhem explodes! I cannot recommend Annette Blair's books enough, and this is no exception...on my keeper shelf." Chere Gruver, ParaNormal Romance
"Annette Blair is brilliant at capturing emotion... I had forgotten how much I loved these books...brilliant comedic moments...classic Eve vs Nick...vibrant characters... This is the best book yet and I really am looking forward to the next in the series!" Murder! She Read, Cozy Mystery Book Reviews
"Another great mystery by Annette Blair. I read this book cover to cover when I should have gone to bed. Surprises around every corner.. fast-paced. I love the writing style and humor. If you like fashion, this really is a series for you. If you just love a good cozy mystery and don't give a damn about fashion, like me, this is a series for you. Bring on the next book please!" Aurian, Blogarchief
---

2nd Vintage Magic Mystery
August 2009
LARCENY AND LACE
Maddie Cutler has it all in the bag: fashion, magic--and murder! If that dress could talk...
The second entry sparkles in bestselling author Annette Blair's enchanting Vintage Magic Mystery Series for Berkley Prime Crime starring Madeira Cutler, a psychic dress designer--and daughter of a witch--who "reads" vintage clothes and follows their clues.

"Warm, endearing and full of magic! Annette Blair's "Vintage Magic" series is one of the most adorable, fascinating cozy mystery series I have run across. Another fast-paced novel that keeps the reader entertained from the word go! Annette's characters are warm & endearing, & you feel as if you're visiting old friends. I love the side love story between old Mrs. Sweet & her ghostly boyfriend, Dante. And I love that Blair includes Maddie's familiar, a cute little cat named Chakra. I look forward to more of the Cutler family & Mystic, Connecticut from this wonderful author." Sharon Chance, FreshFiction
Five Fangs for Larceny and Lace

Annette Blair's whimsical and witty writing style is true magic on the page. She never disappoints. I love Blair's use of words and the way she blends magic and vintage clothing into the stories like they are characters themselves, especially the clothes. It just adds another element, another layer to the story cake that makes it that much more interesting. I fell in love with Blair's writing when I found her witch trilogies, such sexy works. This new series with it's blend of magic and mystery really has me hooked. I can't wait to read more Vintage Magic Mysteries. Roxanne Rhoads
"I'm not sure there is a grade good enough for this baby, so I'm bestowing my first Grade A++"

"Awesome first person narrative, colorful, smart and sassy heroine, touching secondary characters including a romantic ghost pining for his lost love, now 103 years old, as well as a lovely secondary story line...snappy dialogue, intriguing mystery, and finally, delicious sexual tension... Blair's writing is an absolute breath of fresh air...witty, original, perfectly-paced, and filled with fascinating tidbits. The vintage clothing angle rocks...the delicious and sexy undercurrents were so totally satisfying. The only thing that makes me sad about this book is that it's over. All right, it's confession time. I actually cried TWO times while reading this book. The scene where Maddie and her father both smell chocolate, a paranormal indicator that her dead mother's presence is being felt by both of them, was so sweet and touching, I welled up and cried. And the final scene of this book is absolutely wondrous! It was hands-down the best scene in a book I have read in ....well, forever. So romantic, so sweet, so embarrassed I was blubbering when my kids got home. Thank you, Annette Blair, I bow to the greatness that is this book. I'm not sure there's a grade good enough for this baby, so I'm bestowing my first Grade A++" Penelope, Penelope's Romance Reviews
"Blair has created some very flamboyant and interesting characters for the Vintage Magic series. Each character is well developed and the interactions and witty dialogue make the book a joy to read. Every chapter is begun with a fashion related quotation and the book includes Tips for Vintage Handbag Lovers and directions to Make Your Own Clutch. If you want a book you can just sit back and enjoy, following along in the lives of people you grow to care about, give this series a try. I'm fashion impaired and feel dressing up means there are no stains on my jeans or my shirt front and I love this series." GUMSHOE, A Literary Investigation
"Blair's second Vintage Magic mystery is a wonderful investigative tale that will have armchair readers spellbound trying to solve the case before Maddie can. With whimsy, humor and Dante to round out the magic, fans will enjoy this entertaining paranormal amateur sleuth while wondering if Lytton will become the latest cop bewitched by Maddie." Harriet Klausner
"LARCENY AND LACE delivers a follow-up tale that is every bit as satisfying as the first Vintage Magic novel, or perhaps may even be better than the original! Maddie's knowledge of fashion is amazing... Readers may start rooting for the "favorite" male to pair up with Maddie—my money is on Werner... Friendship and magic are essential to Maddie's tale, and we see her slowly start to embrace the magical side of life…albeit a bit cautiously! LARCENY AND LACE is a fun whodunit that keeps readers guessing and ensnared…waiting (impatiently) for the next Vintage Magic tale." The Romance Readers Connection, Angela Etheridge
"LARCENY AND LACE is another fast-paced novel that keeps the reader entertained from the word go! Blair's characters are warm and endearing, and you feel as if you're visiting old friends among the pages. I love the side love story between old Mrs. Sweet and her ghostly boyfriend, Dante. And I love that Blair includes Maddie's familiar, a cute little cat named Chakra, in the story. I look forward to more stories of the Cutler family and Mystic, Connecticut from this wonderful author." Sharon's Garden of Book Reviews
"You simply HAVE to admit that a vintage shop owner with psychometric ability just oozes over with possibilities! I am SO ready for the next mystery! Brava! "Huntress Reviews, Detra Fitch
---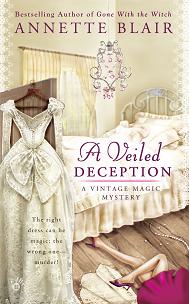 1st Vintage Magic Mystery
A VEILED DECEPTION
RT BOOK CLUB REVIEWERS' CHOICE AWARD NOMINEE
Her mother was a witch?
Home from the New York fashion world to plan her sister's wedding, Madeira Cutler becomes a sleuth when the bride is accused of murder. Turns out, Maddie can "read" vintage clothes and follow their clues. What other gifts did she inherit from her mother?
RT TOP PICK! "A wonderful book...a beguiling series starring a dress designer/vintage clothes collector with paranormal gifts...great setting, intriguing mystery, & characters so well developed, even the villain has elaborate layers...a winner." Page Traynor

Night Owl TOP PICK!"Annette Blair has given us a very special mystery with "A Veiled Deception" her first in A Vintage Magic Mystery Series! There are plenty of chills and lots of humor along the way as you try and solve the mystery with Maddie and her friends. If you are looking for a great mystery with some paranormal elements and a little romance, you have all that and more...Annette Blair is a great storyteller and has her own brand of magic for mysteries! I am looking forward to reading her second book in A Vintage Magic Mystery Series "Larceny and Lace" which is out now!" Janean Sparks
This is the first book in Annette Blair's "A Vintage Magic Mystery" series and I absolutely loved it. It was a quick, fast-paced, light, read that just left you smiling. It's a sweet mystery and everything I want in my cozies – a little mystery, a little romance – all rolled up into one nice story. I thought this book was wonderful and has the makings for a great series. I have to give this my Socrates' Great Book Alert Award – Yes, I liked it that much.
Plus it gets 5 kitty cats!


"Annette Blair brings her characters to vivid life...gives this mystery her signature style...magic.
Fun, witty, highly recommended." Detra Fitch, Huntress
Highly recommended: A+
"
A Veiled Deception is not your typical romance. It's actually a mystery. But if you enjoy Blair's Witch Series, I guarantee you will [love] this fun, flirty, adorable story...A delicious combination! Blair has written her best book yet & I'm looking forward to more of her "romantic mysteries." My favorite part of Blair's writing is her unique voice (also fun, flirty & snappy!) which lends itself perfectly to this genre. I literally could not put the book down until I finished (midnight). Wonderful."
Penelope
A Golden Angel Recommended Read: "The first book in Annette Blair's new Vintage Magic Mystery series, A Veiled Deception, is my favorite book to date. She has more than done it again; she has surpassed herself! This book has the classic Annette Blair style with the quirky, fun, twist of paranormal & the heated romantic interest we have all come to love in her previous series." Stephanie, Fallen Angel Reviews
"Annette Blair, renowned for her sensational bewitching romantic fantasies provides a new series filled with humor, the paranormal, two related mysteries, & of course romance...an outstanding read." Harriet Klausner
"Stunning Start to a new & magical mystery series. A VEILED DECEPTION by Annette Blair is...phenomenal. Ms. Blair beautifully captures New England's ambiance & mystique as she weaves a well-crafted mystery into the threads of Maddie Cutler's life. As with all of Ms. Blair's stories, this one is going on my keeper shelf!" Paula Myers, Fresh Fiction
"This is not just the story of a murder, but of one woman's journey to find herself...If this is an example of Annette Blair's talent for storytelling, I intend to pick up all her back titles. The dialogue is witty, there's humor throughout, with friendship & family, sexual tension without revolving around sex...the plot zings along. I very highly recommend this story..." Chere Gruver, ParaNormalRomance
"
In Annette Blair's excellent mystery novel A Veiled Deception
, Madeira Cutler, an assistant to a fashion designer, returns to her New England home town to help organize her sister's wedding. Like Blair's previous novels, it combines elements of the mystery & supernatural genres & does both effectively. The supernatural aspects play out well, particularly in that Madeira is experiencing them for the first time. A good start to a new series, great example of the supernatural mystery genre." Curled up with a Good Book
"Maddie is a delightful character who has an affinity with vintage clothing--she can see into the lives of past wearers. There are several threads & we sit on the edge of our seats to see how they're sewn together. A Veiled Deception has something for everyone--sexy men, humor, love & a fantastic plot with suspense and danger. If you love all these aspects woven into one, Annette's Blair's A Veiled Deception is perfect!" Debbie Guyette, SingleTitles CataRomance
"I have enjoyed Annette Blair's chick-lit-meets-witch stories since she wrote The Kitchen Witch. Blair definitely brings her "A" game with A Veiled Deception, the launch of her new magical cozy mystery series. Maddie is a delightful and interesting character that the reader can connect with immediately, and the clever entwining of the murder mystery with a chick-lit attention to fashion and the paranormal bent with regards to Maggie's special powers is brilliantly effective. Surrounded by an eclectic mix of supporting characters, some of whom are ghosts (!), Maggie is determined to clear her family name and get her sister to the alter so she can start her happily-ever-after. Blair's second Vintage Magic Mystery, Larceny and Lace, is due out in August 2009 and I, for one, can't wait to see what Maddie gets involved in next." Crystal