THE KITCHEN WITCH
SOON TO BE OUT OF PRINT
A Contemporary Romantic Comedy
Not a paranormal!
"I read this for a paranormal romance book club challenge, expecting it to actually be about a witch… IT'S NOT! Do NOT read this thinking it's paranormal romance – it's just some good ol' straig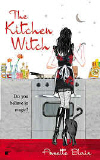 ht up chick-lit/romance. That being said, this was a fantastic (and quick!) read." The Library Dragon's Den
Now in its 10th printing!
2005 Aspen Gold Winner
2005 Beacon Award of Excellence Winner
2005 So. Magic Gayle Wilson Award of Excellence Winner
2005 Laurel Wreath Award Winner
2005 The Lories Winner
2005 RIO Award of Excellence 2nd Place
2005 HOLT Medallion Award Finalist
Accidental Witch One ~ Available Now: When a single-dad TV executive hires Melody Seabright--a flaky rich girl and rumored witch--as his babysitter, she magically lands her own cooking show...and makes sparks fly.
"The Kitchen Witch is one of the best romantic comedies I've ever read, bar none." Deirdre Martin
"Bewitching! Full of charm, humor, sensuality & outstanding secondary characters...an easy-reading, reader-pleasing story that makes you feel good all over." RTR
"Steamy, sexy, magical. I laughed out loud at Melody's kitchen disasters--not since Stephanie Plum have I read about exploding poultry. This book is delightful. I can only hope that Annette Blair will consider coming back to Salem to bring more romance to its residents." Roundtable
"Pure magic. THE KITCHEN WITCH sizzles. Ms. Blair's writing is as smooth as a fine Kentucky bourbon. Captivating. Sexy, fun, top notch entertainment." RRAH
"Romantic comedy at its most subtle and finest. Magic and love are woven into the story with a deft touch." A Romance Review
"The characters are remarkably real...and not the flat, 2-dimensional characters that one sees so often in romance novels. I fell in love with Melody for her beauty and her bravery, while loving her all the more for her ditzyness, clumsiness, and willingness to give up on herself. Logan's struggle with his own flaws makes him so much more real and endearing – not to mention giving Melody (and himself) needless trouble. It's a classic tale of two people in love (or lust), constantly getting in their own way. Well-written, funny and charming, with scenes so hot you can feel the frustration, this is a great book. I laughed, I cried, I laughed again, I cried some more, and then I laughed and cried at the same time." Library Dragon's Den
---